Apps / ToolSet - Calculate aspect ratio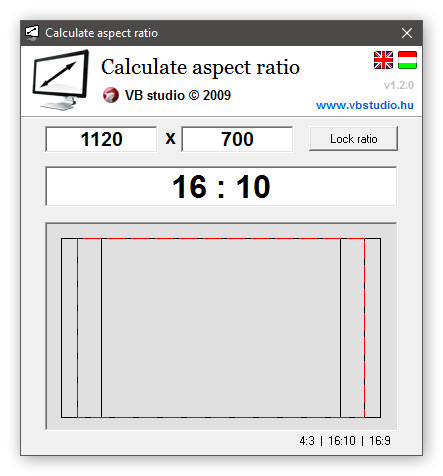 About the app
You can calculate:
the aspect ratio of a specific resolution, for example: 640x480 has the ratio of 4:3,
the width or height of an image if the aspect ratio, and the other dimension is known.
How to use:
The top two input fields are for the ratio or resolution. After you pressed [Lock ratio], whenever you change one of these inputs, the other will change too, while maintaining the original ratio.
Below these fields you can see the aspect ratio expressed with the smallest possible whole numbers. Also, below this is a visual representation of this, with 3 helper boxes which are represent (from outer to inner) 16:9, 16:10, 4:3 ratios.
1.2
Changed the font of the title and updated the VB logo.
Language and website buttons now have rollover effect.